For lovers of travel and lovers of railways alike here is an incredible passing panorama across a vast and dramatic landscape. Travelling across the breadth of China, Mongolia and Russia on board the Trans Mongolian railways is a must. For sheer distance, intrigue and, on completion, the tremendous sense of real personal satisfaction, no other train journey comes anywhere near it. The train departs from St. Petersburg, Russia and travels across Mongolia to Beijing, China over 16 magical days. Come and take the ride from Europe to the heart of Asia!
*Special* - Book now to receive a $200 early booking bonus through North South Travel - contact us for more details!*
General Info
Group Size: 15 maximum, plus Tour Leader
Accommodation: Hotels - 6 nights (twin share), Mongolian Ger - 2 nights (shared tent), Trains - 7 nights (comfortable 4 berth sleepers, 2 berth upgrade is available)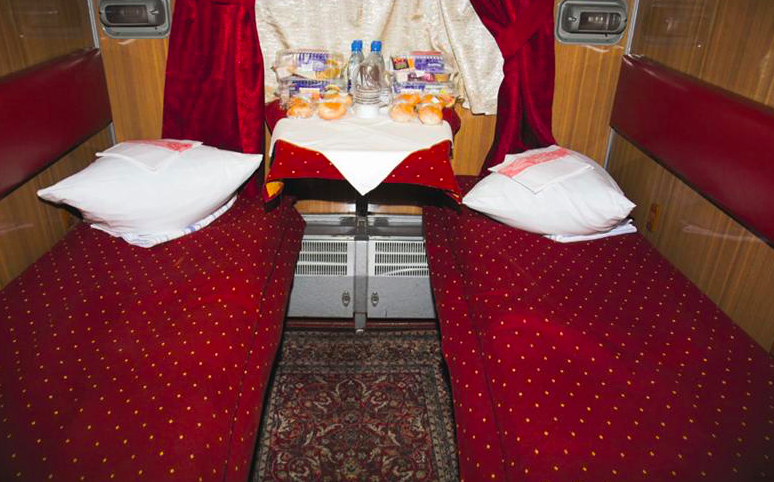 Meals: Breakfast (8) & Dinner (1)
There are 4 rail sectors on this journey; 1. St. Petersburg to Moscow (1 nights) 2. Moscow to Kazan (1 night) 3. Kazan to Ulaanbaatar (4 nights) 4. Ulaanbaatar to Beijing (1 night)
Other: For 'Scheduled Sightseeing' they generally use a small minibus, and for 'City Exploring' they use local taxis, public transport, underground metro and go on foot
Itinerary
Days 1-2: St. Petersburg
The former capital of Imperial Russia, St. Petersburg is a luxurious city with richly filled palaces and museums, wide boulevards and canals. With a long list of magical attractions, the entire city centre is a UNESCO World Heritage Site. From the gilded halls of the prestigious Hermitage Museum that house dazzling treasures once owned by the Romanov family along with works of the great masters to the stunning gardens of Peter the Great's first Summer Palace, you will fall in love with the 'Venice of the North'.
Days 3-4: Moscow
Moscow will amaze you, its palaces and public buildings restored to their former glory. Beneath the city lies the palatial metro rail system draped in chandeliers, mosaics and baroque bas-reliefs while the vast Cathedral of Christ the Saviour again dominates Moscow's skyline.
Days 5: Kazan
Welcome to Kazan! The capital of the Tatarstan Republic and the Muslim capital of Russia. After enduring a tumultuous history Kazan has risen to become one of Russia's most progressive cities.
Days 6-9: All aboard the Trans Mongolian Railway!
You will settle into life on board, enjoying the company of your fellow passengers and the stunning scenery that you will enjoy for the next four nights. First travelling along the Trans Siberian Railway over the steel bridges spanning Siberia's nerve system of 5,000 rivers. You will pass over the Ural mountains which divide Europe and Asia, and cross the Irtysh and Ob rivers stopping for a quick wander around Yekaterinburg, infamous for its bloody history. You will continue through Irkutsk, the Paris of Siberia and catch a glimpse of stunning Lake Baikal from the train window.
Day 10: Hello Mongolia!
At daybreak, classic scenes of traditional nomadic life will greet you as the train winds impressively across the Mongolian Steppe and into the capital. You will travel out across the grasslands to Terelj National Park where you will spend two nights in a traditional Mongolian nomad's ger, set amongst spectacular rock formations and wild rolling hills.
Day 11-12: The Mongolian Steppe & Ulaanbaatar
Among nomadic families and their grazing livestock we can explore the nearby valleys or just relax and enjoy the area before we leave our ger camp and make our way back for our final night in the quirky capital of Mongolia. Ulaanbaatar, is a contradiction - a metropolis amid endless grass steppes, with donkeys and motorbikes, concrete apartment blocks and traditional gets. Here you will gain an insight into Mongolia's past while visiting the National History Museum.
Day 13: Trans Mongolian Railway
A morning departure aboard the Beijing Express. You will travel over the steppe-lands of northern Mongolia and to the south, the Gobi desert which until the middle of this century was the rough track across this desolate country. This afternoon you will arrive at the Mongolian border town of Dzamyn Ude. After formalities are completed you will continue on to the Chinese border town of Erlian for immigration and customs formalities.
Days 14-15: Arrive Beijing
Beijing will prove unforgettable, all senses assailed - colour and sound, smell and taste - leaving indelible memories of continual contrast, history and tradition alongside 21st century technology. Your sightseeing continues with an excursion to the Great Wall. Built to defend the civilised world from the fierce and capable Mongol horsemen, the Wall stretches 10,000 Li across China's mountainous northern frontier. Also visit Tiananmen Square, Mao's Mausoleum, and the serene Temple of Heaven set in beautiful parklands.
Day 16: Depart Beijing
The last day has arrived too soon. The adventure is complete, the legendary rail journey that started many days ago has taken you across Asia, through lands and cultures literally worlds apart.
If this journey has captured your imagination do not hesitate to contact us today to reserve your spot on this trip of a lifetime! Call us at 604-736-7447 or click on the contact us button at the top of this page.
Interested in Train Journeys?