If you're looking for something a little different, consider a self-guided holiday. North South Travel has hand selected self-guided itineraries with preferred partners that you can trust. These types of trips have all the comforts of an organized tour, but with the flexibility to enjoy your day at your leisure and how you please. With the comfort of having breakfasts included, but the option to choose your other meals and your accommodations included and set, this might be the perfect short vacation you're looking for.

Self-Guided Walking Holiday in Portugal
Follow the Rota Vicentina along the coast from Cavaleiro to the attractive village of Odeceixe on this short break walking holiday to Portugal's unspoilt south-west. Spend three days hiking between villages, through the natural park of 'Sudoeste Alentejano e Costa Vicentina'. Walk along well-marked trail along cliff tops, amongst dunes and beside dramatic rocky shorelines. Enjoy the traditionally relaxed Portuguese lifestyle, golden beaches and sample delicious fresh seafood and wine along the way.
Trip highlights
Coastal landscapes - Explore unspoilt beaches, dunes and steep cliffs and make the most of beautiful points along the way
Get off the beaten track - Follow a 45 km section of the Rota Vicentina along this little-known part of the western Algarve, discovering the Sudoeste Alentejano e Costa Vicentina
Relaxed pace - Walk at your own pace and take time to enjoy the lifestyle, food and wine of the region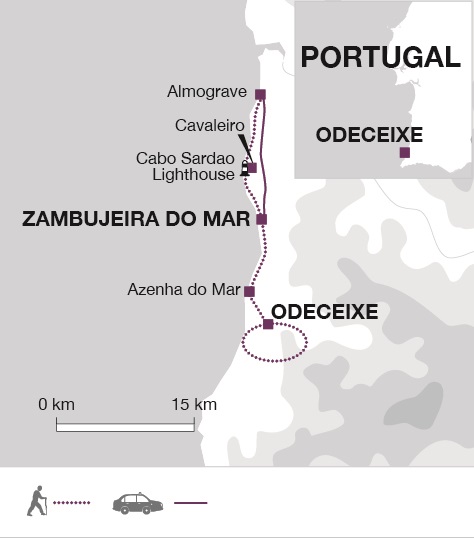 DAY 1 - Trip starts in Zambujeira do Mar
Your accommodation for the first two nights of your holiday is in the coastal village of Zambujeira do Mar. A transfer from Lisbon Airport to your accommodation is included on this holiday and takes approximately two hours. After checking-in, you may choose to spend some time exploring this charming village, set against a backdrop of wild beaches and rugged cliffs. There are several small cafes serving delicious, fresh custard tarts and coffee which you can enjoy. The cafes at the bottom of the village have wonderful views out to sea and great vantage points for sunset. This evening, it's recommended to enjoy a dinner of freshly-caught fish in one of the family-run restaurants in the village. On some days of your trip the walks are affected by tide times. Please check these in advance and plan your walks accordingly.
Accommodation: Hospedagem Rosa dos Ventos (or similar)
Meals Provided: None
DAY 2 - Walk along the 'Rota Vicentina' from Cavaleiro to Zambujeira do Mar
This morning starts with a short taxi transfer to the village of Cavaleiro. From here, your walk takes you along a coastal section of the famous 'Rota Vicentina' footpath. Shortly after leaving Cavaleiro you reach the cliff path and the lighthouse at Cape Sardao, from here on there are fantastic coastal views for most of the day. The route follows a wide path for most of the time but there are narrower sections and one short, steep descent towards the end of the walk. You can expect today's 12 kilometre walk to take approximately five hours. If you would like a longer walk today there is the option of starting in the village of Almograve. This section begins with a wide gravel path parallel to the coast and then turns into gentle sandy dunes. For the most part you stick on the coast but a short section which winds in to a pine forest offers a beautiful complement to the coastal scenery. Starting in Almograve, the total distance walked today is 21 kilometres and will take approximately 7 hours.
Accommodation: Hospedagem Rosa dos Ventos (or similar)
Meals Provided: Breakfast
DAY 3 - Walk along the coast from Zambujeira do Mar to Odeceixe
Today's walk follows another section of the Rota Vicentina along the stunning Atlantic coast. This route alternates between rolling dunes and rocky cliff paths where storks nest, the views along the way are beautiful and there is no shortage of spots to stop for a snack and to take it all in. Following the coast, you pass pristine golden beaches and the fishing village of Azenha do Mar before reaching the mouth of the River Odeceixe. Here you turn inland and follow the river to reach the attractive, laidback village of Odeceixe, where you will spend the next two nights. You can expect today's 20 kilometre walk to take approximately six hours. There are two steep sections on today's walk, both are very short and covered in just a few minutes but walking poles would be useful (but not essential) for these sections.
Accommodation: Casas do Moinho (or similar)
Meals Provided: Breakfast
DAY 4 - Circular walk from Odeceixe
On today's circular walk from Odeceixe first you follow the Rota Vicentina inland. Walk along an irrigation channel as it winds through farmed fields, then across an open landscape of heather and fragrant shrubs to the coast. Follow the fishermen's path across a beautiful natural area to the beach of Odeceixe. Enjoy a relaxing afternoon on the beach or if you prefer walk back to your accommodation and cool off in the pool. You can expect today's 13.5 kilometre walk to take approximately four hours.
Accommodation: Casas do Moinho (or similar)
Meals Provided: Breakfast
DAY 5 - Trip ends Odeceixe
After breakfast, the organized part of your holiday comes to an end.
Meals Provided: Breakfast
If you're all about travelling at your own pace, but would love the security of still having organized travel plans, this active walking holiday is the perfect match for you! Contact us at 604-736-7447 or send us a message through our website via the 'contact us' button!