A 6 day wellness tour to the soul of Central America
Wellness comes in many forms: wellness of mind, wellness of body, wellness of spirit, and wellness of community. On this 6 day journey to Guatemala, you will experience all components of wellness in a customized tour of this beautiful Central American country. Activities will include spa treatments, shopping in indigenous markets, wine & chocolate tasting, Mayan shaman healings, visits with local artisans, and more.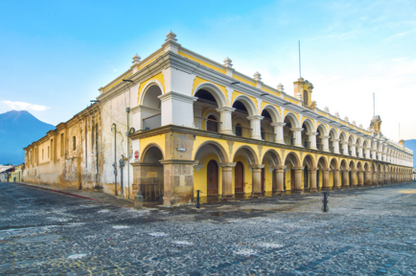 This journey will begin in Antigua, a colonial jewel in Western Guatemala, known for its beautiful architecture, stunning volcanic surroundings, shopping, and of course, spas. From there, you will travel to Lake Atitlán, a crystalline blue sanctuary where you will partake in shamanistic healings and have time for quiet reflection. You will also experience traditional Mayan weaving techniques by spending an afternoon with a local women's textile cooperative. Finally, you will end your wellness tour by volunteering in San Juan Comalapa, an indigenous town that is helping its youth by building schools made from recycled materials.
This 6 day wellness itinerary includes:
* Intimate, boutique tour of Guatemala with bilingual guide
* Maximum 10 people
* Pick-up & drop-off at airport
* 4 nights stay in boutique hotels (Posada del Angel, Hotel Atitlán, and Hotel Vista Real)
* 1 night stay in indigenous village
* 1 day of building schools at Long Way Home
* All meals, 2 Spa treatments, Shamanistic healing ceremony, Women's textile cooperative tour, Chocolate and Wine Pairing, Mayan markets, Transportation to all cities in luxury van
*Airfare to and from Guatemala and individual activities not mentioned in itinerary are not included. But please contact us for the best available fares!
This tour starts at $2,945 per person based on double occupancy and $3,395 for single occupancy.
Day 1: Wellness of Mind (Antigua)
Arriving in Antigua in the early afternoon, you will be met by Casey Miller, Founder of Travelteerism, at the Guatemala City International Airport. From there, a private van will escort you to Antigua, a short 45 minutes away. After settling into your boutique hotel, we will embark on a 2 hour walking tour of this cobblestone street city. Here, you will learn about Guatemala's fascinating history and current challenges. It will not take you long to also learn that the colours of Antigua — with its bright blues, greens, and yellows — can only be matched by its quality spas. Before dinner at one of Antigua's most charming places, Tartines, massage treatments will be arranged.
Day 2: Wellness of Body (Pacaya)
Pacaya is an active volcano located just 30 km (19 miles) from Antigua. With an elevation of about 2,500 meters (8,400 feet), Pacaya looks daunting, but can easily be conquered in a about 2 hours. Today, you will drive close to the top and enjoy the breathtaking views that the trail to the summit affords. Along the way we might see red-hot flowing lava. Don't forget your marshmallows.
Later in the afternoon, you will return back to Antigua for an afternoon full of shopping in any number of Antigua's textile, antique, and artisan stores. Spa treatments will also be arranged.
Day 3: Wellness of Spirit (Lake Atitlán)
Lake Atitlan, or "place of the water" in the Aztec language, Nahuatl, has been described by many as the most beautiful lake in the world. Today, its shores are flanked by indigenous communities, many of which still dress in traditional Mayan dress.
On the first day here, you will spend the day either biking, kayaking, in spa treatments, having general R & R or all four! On the second day, you will visit a local women's cooperative, and see first-hand how the Mayan make their beautiful clothing from natural dyes. You will also visit a shaman, who will perform a cleansing and healing ritual. In the afternoon, you will head towards San Juan Comalapa.
Day 4 & 5: Wellness of Community (Volunteer)
Long Way Home is a US registered 501c(3) that uses sustainable materials to construct schools which promote education, employment, and environmental stewardship.
You will arrive in the morning to Long Way Home and spend the morning shopping at the local market. Any fabric bought in Lake Atitlán can also be left with the town tailor, for custom garments delivered later that day. In the afternoon, you will volunteer at the school. Volunteers can choose any variety of activities from painting to English teaching to construction! In the evening, we will drive to Guatemala City, where you will stay before your flight home the next day.
Day 6: Wellness of Being (Return Home)
After 6 days in Guatemala, you will leave with a rejuvenated mind, body, and spirit.
For those that would like to continue on their journey of wellness here, and visit other enchanting places in this magical country (like Tikal or the magnificent Caribbean coast), please let us know. We will happily help you with arrangements.
This is a sample itinerary of what we can create for a trip top Guatemala, if it sounds like something you are interested in just get in touch for more information! Click "Contact us" above or call and ask to speak to an Adventure Travel Specialist at 604.736.7447
Interested in Adventure Travel?