After sailing on countless ocean cruises and working at sea myself, I was excited to finally experience my first river cruise! I knew I would be setting my bar high as I was getting to experience the luxurious 5* all-inclusive Uniworld Boutique River Cruise.
We sailed on the S/S Catherine and explored the Burgundy & Provence region. Our travel dates were April 24 – May 01, 2016. It was a great experience and we had a lovely group of travel agents sailing together that week!
On arrival in Marseille – I was met by the Uniworld driver – it was lovely to have a friendly face with a sign to meet me. I was directed to the rest of our group and then we were taken to the waiting Mercedes mini van for our transfer to Avignon. The drive from Marseille to Avignon is approx.. 1 hour – it was a pleasant drive and gave us a short time to rest before joining the SS Catherine.
The ship is beautiful, and very much designed in the style of the Red Carnation Boutique Hotels so the attention to detail is amazing. It was very opulent in design with chandeliers and an amazing collection of art everywhere – from Picasso to Renoir – it was like having your own private art gallery! The staff were very welcoming. We checked in – were given our room keys and escorted to our cabins.I was in cabin 428 – which was a Category 1 – with a balcony! It was a good location and the room was well appointed – but as I was expecting, the rooms on a river cruise vessel are much smaller than you find on the ocean liners. In addition to the small balcony there were windows that opens downwards and glass walls that are inside the room which bring in a lot of light which was nice.The bathroom was very nice with granite countertops and a decent size shower. They had heated floors and L'Occitane products which I love!
Having personally seen the various room types I also thought the Category 2's would have been great, you lose the balcony but you have more room in the actual cabin. It is important to note that the beds can be separated to two singles- in case you have two friends travelling together – but you only have about 2 or 3 inches between the beds – so I would definitely say you should be good friends ;)
Onboard the SS Catherine – It is an all inclusive experience - so you do not need to sign for drinks – and while on my sailing you could purchase some alternative tours if you wished, but this will change for 2017 – when all of the tours are included and there will be no 'optional tours'. If you want to have a massage – there is an additional fee – and then they do have a few items displayed in cases along the hallway – watches, scarves, jewelry – you can purchase these items as well – but there is no actual gift shop onboard.
There are two lounges – the Bar du Leopard – which also has the small pool – and the Van Gough lounge at the front of the ship. In the evening everyone meets in the Van Gough lounge for the daily briefing of what happens the next day – the wine sommelier gives a wine pairing talk – what wine she has chosen for the evening meal and why – and then if there is any evening entertainment. This talk is also televised – so if you do not want to go to the lounge – you can relax in your room and not miss any important information.
The distance between Avignon and Lyon is not very far – it take just over 2 hours to drive this route – so being on the river – when you sail – it is not for long periods of time. It does allow for extended times in ports which was great if you wanted to go out and explore.
On our first day we started sailing at about 6:00PM on the first night and were docked again by 9:00PM – in Tarascon. The ship would overnight in most ports of call – there was only one time that we sailed all night and this was due to a back up at the lock in Tournon.
Our itinerary was as follows:
24 April Avignon sail at 6:30PM – arrive in Tarascon approx 10:00PM - overnight
25 April Tarascon sail early evening and arrive Avignon evening - overnight
26 April Avignon – set sail at approx. 6:30PM for Viviers–
27 April Viviers – arrive at 2:00AM – sail from Tain at 9:30PM
Tain / Tournon – late afternoon sail to Tain / Tournon
28 April Tain / Tournon – sail at approx 9:30PM to Lyon – arrived in Lyon around 11:30PM
29 April Lyon- departure was at approx 11:30PM – set sail for Macon
30 April Macon – for trip to Beaune – 5:00PM sailing to Lyon – arrived at Midnight
01 May Lyon -fly home

In each port of call there was a complimentary tour – most of the tours were walking tours – they have the headsets in each cabin – you can get earphones from the front desk – once you are with the guide they give you a card – you point your device at the number and then you can hear your guide – it is very good – and then you don't have to all stick to a tight group – and you know when the guide is moving. I really liked this extra bit of freedom on the group tours.
We sailed under the bridge (built in 1849) to Tournon and enjoyed some wine at a winery on the hill with a lovely view for our excursion that day!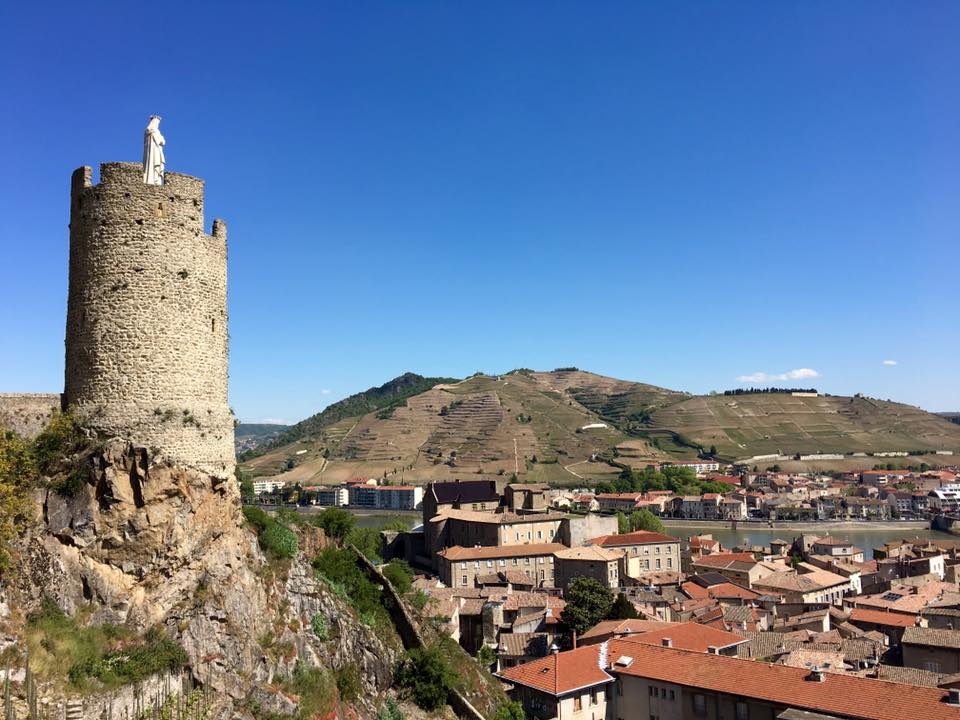 In Lyon we went on a Silk Weavers walking tour - we took the tram to start and then a fabulous walk to the Old Town and toured one of silk weavers workshops - it was an amazing day!

One of my favourite days was in Viviers! Francis was our amazing local guide. We got to enjoy a tour of the old town, an organ concert in a beautiful old cathedral followed by wine and cheese reception & tour of a spectacular French home.
The dining onboard the Uniworld ship was fantastic!
Breakfast was early to co-ordinate with the tour departure – but it would close about 30 minutes before the tours departed – so if you are a late riser – you would miss your breakfast.The breakfast was either a la carte where you could ask and order from the menu, or enjoy the buffet.
Lunch was a buffet – but they always had a carvery or special plates being offered – such as paella one day or panini's another day – and always fabulous cheese platters and lots of salads.
Dinner is a true event onboard. Once the evening briefing is over – everyone heads to the dining room and you order what you want from the menu. The dinner tends to be quite long – at least two hours minimum but you can really enjoy the experience and sample various wines as recommended by the sommelier.
They would change the wines daily, but as a little tip, you are able to order other wines (so we used to ask for the recommended wine with the dinner as I always particularly enjoyed this).
The entertainment is not the grand Broadway style shows that you would find on an Ocean cruise – but much more casual – with a pianist playing during the evening. A nice feature in the Van Gough lounge was the candy bar that was set up at the entrance. It is a self serve with marshmallows, gummy bears and black and red berry candies.
I think it is important to be clear on how different a River Cruise is compared to an Ocean Cruise. There are definitely pros and cons to both. Being on such an intimate vessel with only 130 guests you do get to know the people you are travelling with and get to see the cities as the locals – but it is much more structured with regards to daily departure times and dining times but as long as you know this in advance to manage expectations I think the large majority enjoyed this style of travel. Each day was certainly maximized and I felt like we always achieved a lot! There are not all the bells and whistles of a larger ocean cruise – but the focus on the cuisine and local towns was second to none!

On the last day my return flight from Lyon to Paris was at 6:20AM – my meeting time was 3:45AM – it was lovely that Uniworld took care of the early departures and had a continental breakfast set up for us to have a bite before we were transferred to the airport.

And just like that, sadly our amazing trip had come to an end...
In summary, the ship is beautiful – and having the all inclusive option is definitely the way to go. Everyone had the options to take whichever tours they wanted and it was so nice not having to sign for anything during the week! I definitely would sail again with Uniworld and personally would love to experience one of their Italian itineraries or the Christmas markets! I highly recommend river cruising – it is a wonderful way to experience the cities, the food and culture of the area you are visiting!