S.S. Catherine docked in Tain l'Hermitage by Valrhona Chocolate Factory and School
I enjoyed one night at the MGallery Hotel Carlton Lyon prior to escorting a small group of wine enthusiasts on Uniworld sailing through Burgundy and Provence. I fell in love with the hotel's signature scent the moment I walked through the door and brought home a candle to remind me of my stay. The bed linens and bed comfort level were like sleeping on a cloud. The hotel is perfectly situated to walk around Lyon's many cobblestoned streets shopping, sightseeing, and to enjoy the numerous dining options. The cruise included a day touring Lyon, but it's not enough time to enjoy the numerous dining options. My two personal faves were the historic Maison Abel featuring regional Lyonnaise specialties and Café Terroir which features regional gourmet dishes.

Cafe Able in Lyon
Sailing in 5-Star luxury in the Fall of 2021 from Lyon to Avignon, France with our small group of eight, we didn't all know each other to start, however we were all good friends by the second day! Wine has a way of bringing people together. This is also a great way to celebrate a milestone birthday or event with family and/or friends.
The S.S. Catherine - Cabin and On Board

I stayed in a midship Deluxe Balcony cabin, which is 194 sq. ft./18 sqm. The compact cabins are designed to unpack for the week with many drawers, closet space (with safe) and storage for luggage under the super comfortable bed (2 Twins or 1 King). The cabins have a unique design with an open-air balcony at the touch of a button, the top half of the glass window retracts below, plus option for mosquito screens. You can enjoy sitting here and drawing the curtains closed to separate the room from the balcony if one of you wants to stay up and read, etc. during the night. The bathroom has heated mirrors so they never fog up, a magnifying mirror, towel warmers, hairdryer, bathrobe, and slippers.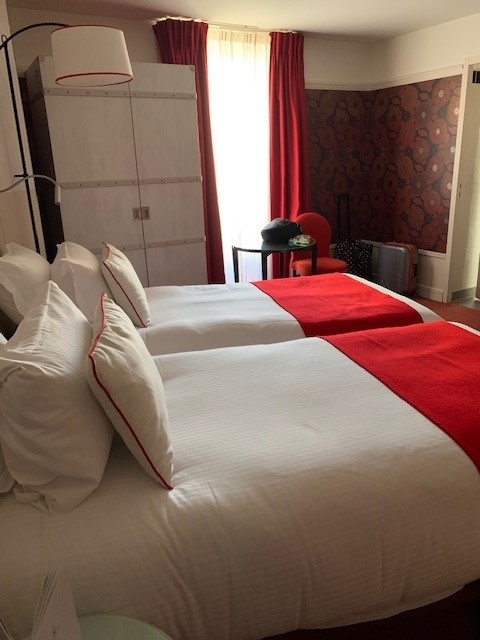 The crew on board the S.S. Catherine were all attentive when making up your room; serving you a beverage in the lounge or when being greeted by the Maitre'd and servers. The sommelier in the dining room selects regional wine daily and pairs it with the planned dinner; etc. All of the staff made us feel welcome, and all requests were met with a smile.
The Uniworld guides were very knowledgeable and entertaining. You could tell the guides and proprietors of the wineries, truffle farms, etc. had all been working together for a long time as they had an entertaining repartee between them. We were kept engaged and delighted by their sharing of local knowledge and their love of France.
The ship has a wonderful collection of original artworks displayed throughout. I was thrilled to have a Louis Icart painting in my cabin. It was like being at home. He's my favourite artist – although I only have prints and a book of his collection of paintings. You'll also find paintings by Picasso, Chagall, Kandinsky, Calder and others. There's a stunning Murano glass chandelier and life-sized glass horse in the lobby.
The main dining room serves 3 delicious meals daily and can seat all passengers/up to 159 guests at one seating. Bar du Leopard located aft is also available for beverages, a 24-hr. self-service coffee and tea station. It is also used for special dining events for Suite and Grand Suite guests, plus groups can organize a private event in this area. There is also a small pool in this area. Any items on the menu with Bea Tollman's name are highly recommended and are part of her personal favourites! She is one of the founders of the family-owned and run, award-winning Red Carnation Hotel Collection and Uniworld Boutique River Cruises. (Hint: Let us know if you are a past guest for an added perk.)
Highlights from our ports of call:
My highlights were a fascinating Silk Weavers Tour in Vieux/Old Town Lyon at Soierie Saint George with demonstration on vintage looms:
A walking tour of the historic village of Viviers which was brought to life by our fabulous guide and ended with hors d'oeuvres and wine in her home:
More highlights: The Cezanne and Kandinsky Carrieres de Lumieres incredible exhibit with fabulous music timed with the larger than life moving illuminated paintings in a cave setting in the countryside. Emy the Truffle hunting dog and her master at La Rabassiere were very funny and highly entertaining along with our Uniworld guide who translated for us. Yes, I did visit several wineries and did wine tastings, but as good as they were, they were not the highlights for me.

I highly recommend Uniworld Boutique River Cruises for a premium all-inclusive river cruise. In addition to transfers, fabulous meals, drinks (non-alcoholic and alcoholic), and daily excursions, they have bikes for guest use for guided and non-guided excursions. They will on occasion have exclusive excursions such as a Cooking Lesson at La Mirande or a Premium Wine Tasting with limited capacity at an additional charge. When these are offered, I strongly recommend they be booked as soon as they are posted in advance of sailing.
This is the perfect antidote for couples, family, and friends who have busy lives that need to slow down and reconnect. Take leisurely strolls together. Learn about history, art, vineyards, wines, olives, and truffles. Enjoy the finer things in life! Leave your vacation planning to North South Travel and Uniworld and set off to explore new places.