To celebrate the launch of the new direct flight from Vancouver to Chicago, Air Canada and Choose Chicago invited a small group of Owner/Manager's to experience Chicago over a couple of days in Mid November!
Air Canada managed to work some magic and we were lucky enough to get Business Class both ways which was a lovely treat! Air Canada is currently using one of the old, small Embraer's for this route (though I am told new, shiny planes will be implemented in the near future) . We all welcomed the extra space and of course the food and drink for the 4 hour flight and I managed to squeeze in 2 films and then we had arrived!
We stayed at a lovely, boutique hotel called the Raffaello Hotel (201 E Delaware Pl) located between the Magnificent Mile and the Waterfront – so it was in a nice location! I had an "Elegant King" room and it was spacious – the bed was extremely comfortable! Amenities were nice! The hotel has a coffee shop inside the lobby but no where for real breakfast. There was a restaurant next door, somewhat in the hotel. There is a also a trendy bar and rooftop patio on the 18th floor and a small gym on property.
I woke up early the first day and went for a morning jog along the water and down to the famous Navy Pier! It was November but we lucked out with the weather, beautiful blue sunny skies which is always nice when visiting somewhere for the first time!
On our first morning we enjoyed a welcome breakfast at Yolk (various downtown locations), a trendy, upbeat café with a huge variety of breakfast options. In typical US fashion the portion sizes were huge- I had ordered a side of their Applewood Smoked Ham Steak for $4 and it was like a full on steak!
After breakfast we walked through the City towards the Millennium Park where we were met by Barbara, one of the fabulous tour guides in the Chicago Greeter Program. For those of you unfamiliar with this program, it is a free service where local guides volunteer their time to show visitors around the City! The program is growing and currently is active in more than 100 cities around the world. Barbara was in her 70s and was dolled up to the nines- she was born and bred in Chicago and very proud of her City!
The Millennium Park is a beautifully designed, landscaped park with lots of art exhibition and public spaces. Most of them are interactive and you are allowed to touch, sit or climb them!
The park is also home to the famous public sculpture, "Cloud Gate".
The group then headed for lunch at the Park Grill at Millennium Park. It actually was pretty nice for a tourist spot- it was opposite the skating rink (picture below was taken earlier in the day before it got busy) but there was a lovely vibe and Christmas music was playing. In the summer that space transforms to a huge outdoor patio deck for the restaurant.
We then played "tourist" and hopped on the BIG Bus circuit tour to get an overview of the city. I quite like doing these in new cities and staying on the bus for the full loop just to see where everything is and get a perspective of the city's layout. We all hopped off to get this group shot looking back over the great skyline! The sun was starting to go down and by this point so you can see we were all freezing!
Our first evening started with a cocktail reception hosted by the Raffaello hotel where we were staying, up in their trendy Drum Bar, on the 18th floor. It is a great space, it has a long bar equipped with every spirit you can imagine, plus lots of hidden nooks so it's a perfect place for couples or small groups. There is also a great rooftop patio and I think the venue is pretty popular in the summer! We had a welcome dinner at ZED 451 (739 North Clark Street) which was fantastic! It had the feel of a Brazilian steakhouse but with an international feel. It is an all inclusive concept where you have access to the "Harvest Table" with locally sourced ingredients, various salads, appetizers and a cheese and meat board. Then, when you were ready for the main event to begin you were told to remove the pebbles from the little dish in front of you and the chef would know you are ready for the meat! Let's just say they had nearly every type of steak possible including extremely tender and delicious Australian wagyu beef, they had salmon, pork, chicken, all cooked and marinated in different ways which the chef would explain as they came round the table. I actually thought the experience would have cost more than it did, it was only $52.90!
A trip to Chicago would not be complete without visiting one of the famous Jazz bars, so even though we were full of meat, we took ourselves to Andy's Jazz Club (11 E Hubbard st). It was so busy for a Monday night and seemed like a mostly local crowd. It was great to hear the live jazz and hang out, it was a perfect end to the night!
The next morning we were treated to private access to the newly refurbished 360 Observatory tower (875 N Michigan Ave) conveniently it was just minutes from our hotel. It doesn't open to the public until 9am so we got to beat the lines and see the beautiful skylines view of Chicago! I was falling in love with this City already!
There have a fun experience called TILT where you can lean on the glass and it literally tilts you out thirty degrees – not for people scared of heights!
Next stop was to board one of the Wendella Boat Tours to experience their Signature Lake & River Cruise. It was well worth doing- the tour lasted 90 minutes and because they were hosting us we got little goody bags with a beanie hat and hand warmers! It was great to see the vast skyline and variety of different architectural styles in the City.
The locks were pretty impressive too! They are the link between the Great Lakes and the Mississippi Valley waterways.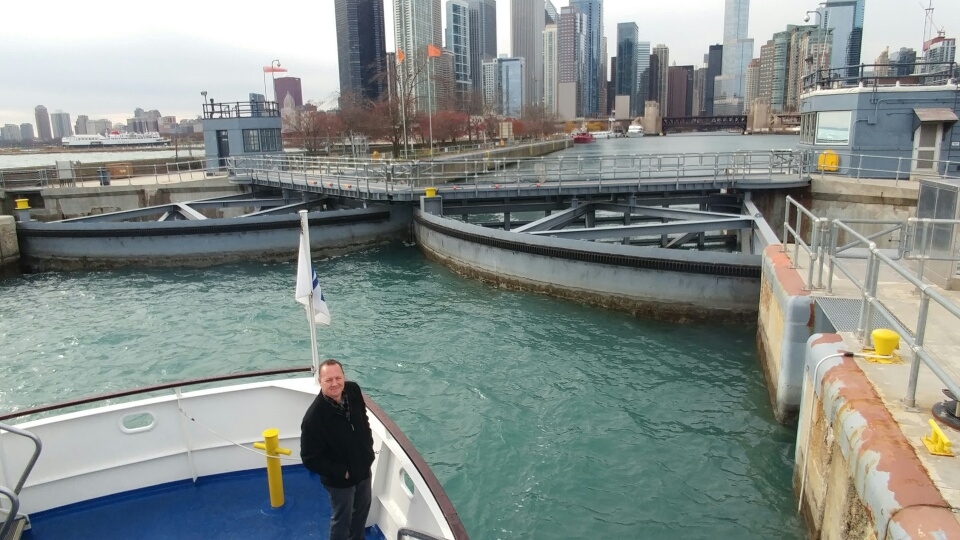 We then hopped back on the BIG Bus and headed to the Willis Tower (Stop #3) where we used our City Pass to go up to the Observatory. It was great to see the City from a different perspective. This tower also had glass floor sections where you could pose for pictures!
Another "must-do" for any Chicago visit is trying the infamous Deep Dish Pizza- so we had lunch at Giordano's Pizzeria (223 W Jackson) and I have to say it was DELICIOUS! Definitely heavy- we could only handle two slices each but being a cheese and pizza lover myself, it was dreamy! Like most locals, I doubt I would actually be able to eat it that often but I definitely will try it again next time I come to visit.
For our last afternoon we had some free time to explore the City and check out whatever attractions we wanted to. Some of the group headed to the Christkindlmarket but I decided to head to the Adler Planetarium (1300 S Lake Shore Drive). It was one of the attractions in the City Pass and also on the Big Bus tour. We only arrived with an hour before closing but it was enough time to quickly see all the exhibitions and watch an awesome light show!
Whilst the rest of the group went back to rest or freshen up at the hotel, I used the spare 90 minutes we had to meet up with a couple I met on a recent trip to Ecuador- we had met in the Amazon jungle. That is another thing I love about travelling, it was pretty cool that we met in Ecuador but now we were sipping cocktails at the glamourous new London House Hotel bar! (Curio Collection by Hilton -85 E Upper Wacker Drive). Even though it was closed for the season, we took a peak at the stunning rooftop bar at London House overlooking the river and glitzy skyline- I imagine that spot would be packed in the summer! My friends then took me to the Chicago Tribune building just to go inside the lobby- did you know that famous building actually has fragments of other famous buildings around the world built into the walls- I saw stone from the Great Wall of China, the Great Pyramid and Hagia Sophia- it was pretty impressive! We then ended up at Howells & Hood for a second drink before it was time to part ways!


Our Farewell group dinner was at Pinstripes (435 E Illinois St) which was a really fun, multi-entertainment venue, there was bocce ball, bowling, private dining space, bars and different seating areas to accommodate small and large groups. We had an area and they hosted some appetizers and drinks for us, before giving us a private bowling lane area where we all played for a couple of hours (I am terrible and obtained the lowest score of the group). It was a great evening!
We had an early wake up call as we left the hotel at 5.15am for our 7.25am flight. It was on time and we landed a few minutes early at 10am so I was back into work by 11.15am and just like that another fantastic trip was over!
Until next time Chicago... I will definitely be back! It is the perfect destination for a fun long weekend, or an extension of a work business trip if you happen to be visiting! The snowy
winter weather had not set in yet (though I imagine it is beautiful in the snow) so it was milder than I expected however I look forward to visiting in the summer to make use of all of the cool rooftop patios, beautiful parks and waterfront space!
A huge thanks to Air Canada, Choose Chicago and the various other sponsors who worked so hard to make this trip so wonderful!
Air Canada is now flying direct to Chicago from Vancouver daily, year-round! Contact us for more information or to book your getaway!