Travelling solo in Africa may sound like a daunting adventure to take on, but have no fear we're happy to put your reservations at ease. Group tours ensure that your safety and enjoyment is priority, and one of our fantastic partners, Explore, ensures that your trip to Africa is a safe and enjoyable one.
Here are just a few tips while you're travelling solo:
Keeping an eye on personal belongings just as you would in any other location

Avoid unfamiliar areas in the evenings in case you become lost

Ensure your passport is valid for at least six months after your return date

Ensure specific visa requirements are met - this is something your Travel Advisor can assist with here at North South Travel

Check with your GP / health department for the latest health precautions and vaccinations/medications needed
Always obtain the appropriate travel insurance from your travel advisor!
Here are a few examples of great trips to join as a solo adventurer in Africa, where you can enjoy the camaraderie of fellow travellers & the safety of group travel!
Botswana Lodge Safari
On this safari you will travel through Botswana and Zambia, exploring Chobe National Park and the vast Okavango Delta. You will search for wildlife including elephants, zebras, buffalo and giraffes. Swapping land for water you'll stay on the Okavango Panhandle aboard your houseboat, searching for hippos, crocodiles and other wildlife. You will end your trip in Zambia, visiting the thundering waters of Victoria Falls.
Trip highlights
Comfortable Lodges - The finest game viewing from comfortable hand-picked lodges.
Okavango Delta Panhandle - Spend two nights on a houseboat and explore the most prolific inland delta of Africa by boat.
Chobe National Park - Discover the stunning wildlife that inhabits this fine reserve, renowned for its big herds of elephants.
Victoria Falls - Visit one of the natural wonders of the world.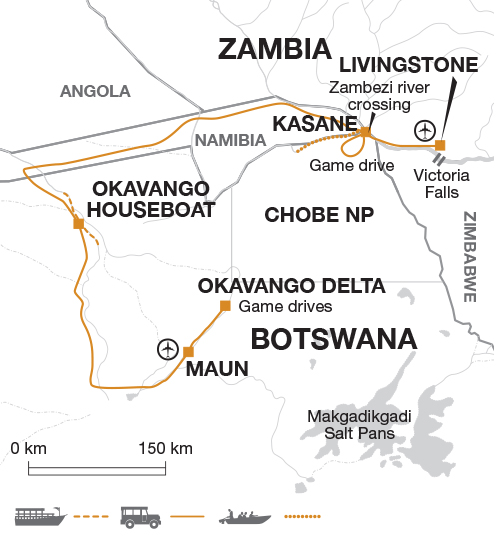 Day 1 - Join trip Maun airport, drive to the Okavango Delta
Day 2 - Full day of game drives
Day 3 - Okavango Delta - search for marine life and huge variety of birds
Day 4 - Morning game drives; afternoon head to Maun
Day 5 - Okavango Delta Panhandle Houseboat
Day 6 - Optional visit to Tsodilo Hills, see thousands of San Bushman rock paintings
Day 7 - Drive to Kasane and the Chobe National Park
Day 8 - Game Drives in Chobe National Park
Day 9 - Game Drives in Chobe River area
Day 10 - Drive to Livingstone; view Victoria Falls
Day 11 - In Livingstone, free time for many optional activities
Day 12 - Trip ends in Livingstone
Cape Escape
Flanked by the Indian and Atlantic Oceans, the Western Cape boasts incredible beaches, beautiful mountain ranges and unparalleled botanical splendour. This tour takes in South Africa's highlights as you journey from Cape Town, through the winelands of Stellenbosch and onto the scenic Garden Route. Along your way, you will encounter penguins at Boulders Bay, breeding whales in Hermanus (from June to September) and game in the Botelierskop Reserve.
Trip highlights
Cape Town - An iconic, vibrant city surrounded by mountain and sea.
Cape Peninsula - Visit Cape of Good Hope and the resident penguin colony.
Stellenbosch - World renowned vineyards overlooked by stunning, rugged mountains.
Tsitsikamma National Park - A marine and forest park in the heart of the famous Garden Route.
Hermanus - The best place in Southern Africa to admire the humpback whales (in season).
Botelierskop - A reserve home to rhino, buffalo, giraffe and orphan predators.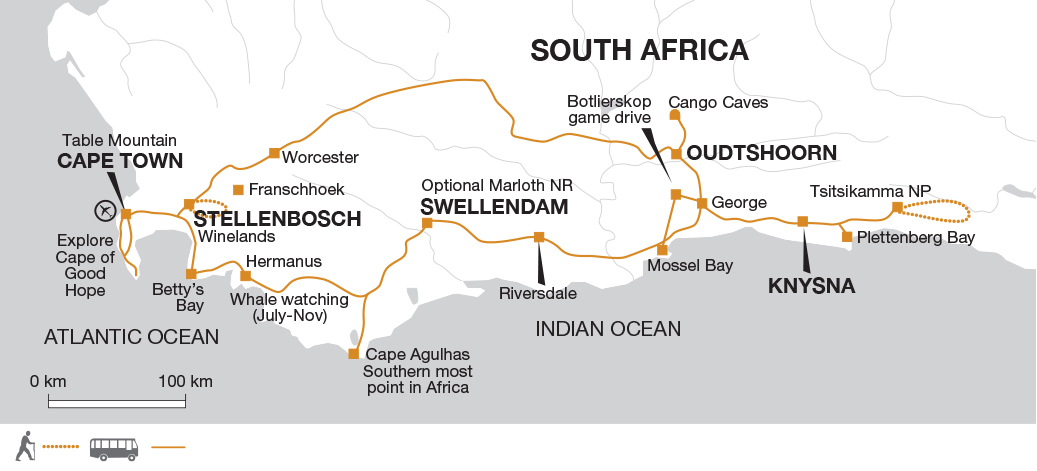 Day 1 - Join tour Cape Town
Day 2 - Tour Cape Peninsula National Park
Day 3 - Ascend Table Mountain; drive Stellenbosch
Day 4 - Exploring the historic town of Stellenbosch and the winelands
Day 5 - Scenic drive to Oudtshoorn, stopping in wine country on route
Day 6 - In Oudstshoorn, exploring the Cango Caves
Day 7 - Drive to Knysna, walk on pensinula looking for Seals and Dolphins
Day 8 - Visit Tsitsikamma National Park, optional walks and short treks
Day 9 - Game drive in Boteilierskop Reserve; drive along the Garden Route
Day 10 - Along the 'Whale Route' to Cape Town
Day 11 - Tour ends Cape Town
Highlights of Morocco
Discover the highlights of captivating Morocco on this fast-paced, adventurous trip. From the iconic imperial cities of Marrakech, Fez and Meknes, with their vibrant souks, medinas and ancient Roman ruins, to the golden sand dunes of Erg Chebbi and the friendly Berber villages in the Atlas Mountains, this trip provides an excellent introduction to a charming, exotic country.
Trip highlights
Imperial cities - Explore the 3 imperial cities of Marrakech, Meknes and Fes
Todra Gorge - Walk in Morocco's Grand Canyon through spectacular rock formations
The Atlas Mountains - Beautiful mountain scenery in the highest mountain range in North Africa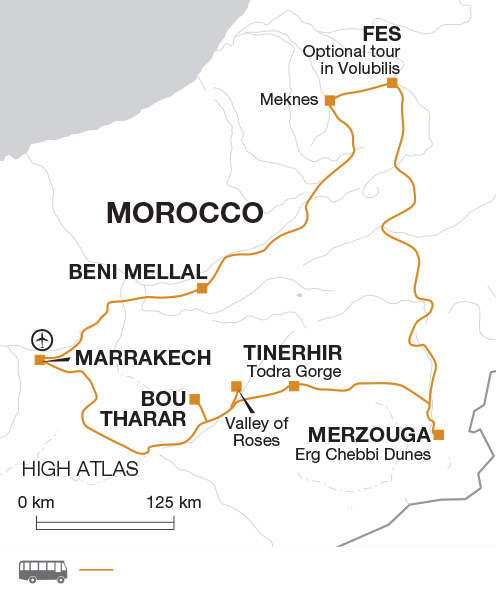 Day 1 - Join tour Marrakech
Day 2 - Morning sightseeing in Marrakech; drive to Beni Mellal
Day 3 - Drive to Fes, sightseeing tour of Meknes en route
Day 4 - City tour in Fes; optional trip to Volubilis and Moulay Idriss
Day 5 - Drive over the Middle Atlas Mountains to Merzouga
Day 6 - Optional camel ride; drive to Tinerhir and hike the Todra Gorge
Day 7 - Drive to Bou Tharar via the 'Road of a 1000 Kasbahs'; visit a Berber village
Day 8 - Drive to Marrakech via Ouarzazate and the Tizi n'Tichka Pass
Day 9 - Tour ends Marrakech
If you're interested in a group tour through Africa for the ultimate solo adventure, give us a call at 604-736-7447 or end us a message through our website by selecting the 'contact us' button!