The Galapagos is a fantastic destination for families. With no fixed dates, a kids club during the summer months, customized excursions with a private guide and an option of accommodations in either our luxury tents or a three bedroom house, Galapagos Safari Camp is the perfect base for families with children of all ages. Contact our Adventure Specialists for more information! 604.736.7447 or inquire via our website!
The Galapagos archipelago is one of the last places on the planet to be relatively untouched by man. With only 3 per cent of their landmass inhabited, the islands support a number of remarkable ecosystems, as well as being home to one of the planet's most important marine reserves. The Enchanted Islands, as they are known, lie at the crossroads of science, nature, exploration and literature. Galapagos Safari Camp is a new way to experience the Galapagos, either in addition to a cruise or as a unique destination in itself. The eco-luxury tented camp – one of the first in Latin America – follows the African safari tradition in which guests enjoy total comfort under canvas while experiencing nature in its purest form.
"One day my daughter summed it up when she said "Mom, I have just seen the cast from finding Nemo" - Galapagos Safari Camp is a place we and the children will remember forever.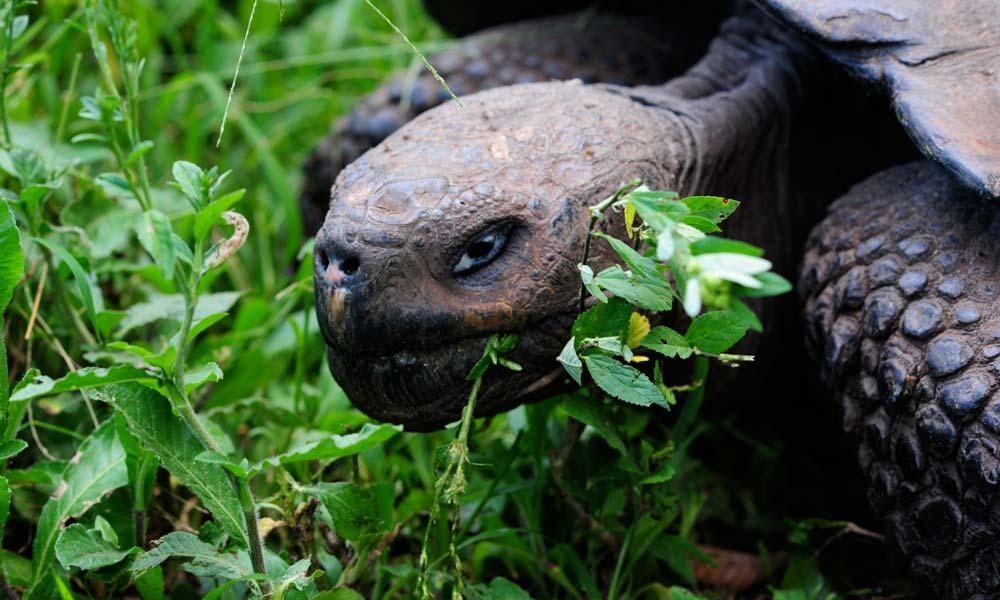 Galapagos Safari Collection
Land Based Safari
Classic Safari
Our core model trip, the Classic Safari, is a combination of land activities and boat excursions that take you to beautiful neighboring islands. This unforgettable journey is filled with opportunities for adventure and relaxation.
5 Days / 4 Nights
from $3610 per person
Family Safari
Our family safari is diverse in activities and engaging educational experiences for both parents and children. We work with knowledgeable guides to lead your safari, many of whom have their own families and understand the need for flexibility, patience, and downtime.
6 Days / 5 Nights
from $4650 per person
Dive Safari
Scuba diving in Galapagos is considered to be one of the world´s best. Designed for dive enthusiasts, this program includes two dives per day and a land excursion on arrival.
5 Days / 4 Nights
from $3600 per person
Relaxing Cruise Extension
Spend a couple of days before or after your cruise relaxing at the camp. You will enjoy the natural attractions of the highlands while unwinding by the infinity pool. Let us take care of you!
3 Days / 2 Nights
from $1070 per person
Active Cruise Extension
Our active safari extension lets you enjoy the camp while exploring the highlights of Santa Cruz. Activities include treks to nearby reserves, hikes to secluded bays and beaches, and active days biking, snorkeling, surfing, and kayaking.
3 Days / 2 Nights
from $1755 per person
Ecuador Mainland Safaris
Sacha Lodge Amazon Extension
Located two hours downstream from Coca on the Rio Napo, Sacha Lodge is an elegant base for exploring the jungle and discovering the animals that live there. Attractions include three observation towers and a 275 meter-long, hanging canopy walk.
4 Days / 3 Nights
from $1176 per person
Mashpi Lodge Cloud Forest Extension
A hideaway in the clouds, only accessible to its guests, and located on a high plateau, Mashpi Lodge features a Sky Bike and Observation Tower for discovering the creatures of the cloud forest from high above the ground.
3 Days / 2 Nights
from $1652 per person
La Selva Lodge Amazon Extension
La Selva Lodge offers guests the chance to explore the jungle by canoe from a remote outpost on the border of Yasuni National Park. Options for activities include trips to observation towers above the trees for bird watching, visits to local indigenous communities, and kayaking on Lake Garzacocha.
4 Days / 3 Nights
from $1405 per person
Hacienda Zuleta Andes Extension
Located in the Northern highlands of the Andes, Hacienda Zuleta is a working farm and historic home of the family of former president Galo Plaza Lasso. Activities include exploring the surrounding hillsides by horseback, mountain biking, and hiking to the ancient Caranqui mounds on the hacienda's property. The hacienda has a condor reintroduction project on the grounds that's worth a few hours exploring.
3 Days / 2 Nights
from $1107 per person
Additional Nights in Quito
Quito's Historic Center, international restaurants, art and music scene, and history lend themselves to fun days of urban exploring. We can help arrange accommodation and activities that highlight the capital's heritage.
Additional Nights in Guayaquil
Guayaquil is a great launching point for your adventure in Ecuador. The city boasts a lively boardwalk along the waterfront with gardens, museums, shops, restaurants and bars.

The Experience
Tented Camp Borders the Galapagos National Park in the highlands of Santa Cruz Island's "transition zone", close to the tortoise reserve. The 55-hectare farm is on a ridge with magnificent views over the Pacific Ocean, as well as the western & northern islands of Isabela, Santiago, Pinzón, Baltra, Rábida, Guy Fawkes & Daphne.
The main lodge is perched on a hill, with panoramic views from its expansive veranda. The open-plan interior draws the eye to the islands dotted on the horizon. There is a lounge for relaxation, a cosy fireplace and an honour bar. The dining room serves local and international dishes created by our chef using home-grown produce.
There are nine luxury tents located below the main lodge. Erected on wooden platforms, they are composed of three layers: one to protect against the sun, another against the rain and an inner canvas shell. Inside they are spacious (27m2), and their custom-made furniture was designed with comfort, practicality and elegance in mind. Twin beds can be joined to become one queen bed; and there are cupboards, a writing desk and a fan/heater for temperature control. A sofa bed can be added for children under 12. The en suite bathrooms are tastefully designed with hot power showers and flush toilets. All the tents have a large balcony with a hammock and chairs from which to take in the wonderful view.
The family suite at the Galapagos Safari Camp offers a three-bedroom suite as an alternative to our luxury tents. Its location next to the main lodge makes it an ideal option for families who favour more private and cohesive lodging. The family suite, which sleeps six, features a master bedroom and two twin rooms, all with en suite bathrooms.
The infinity pool is ideal for a refreshing swim on hot days, or for simply relaxing in the tranquility of the setting.
The viewpoint is a spectacular place for yoga, private lunches or cocktails at sunset. It comprises an eating area as well as a comfortable lounge, and events can be organized upon request.
The farm is very rich in birdlife, including finches, warblers, mockingbirds, Galapagos doves, egrets and owls. Giant tortoises can also be found pottering among the tents. As a result of our conservation work, many local species of tree, such as scalesia, guayabillo and palo santo, are rapidly regaining a foothold after years of cattle farming.
For more information or to book yur Galapagos Safari contact one of our Adventure Travel Sepcialists at 604-736-7447 or via the 'contact us' button!
Interested in Multi-Generational Travel?