Dreaming of traveling the world in your own private sanctuary? Ever thought when life gets beyond busy that you need some downtime to yourself? Pick up those books collecting dust on the shelf, get out your suitcase and book yourself a special getaway designed by you, for you. Travelling solo means you get to decide where and when you go and what adventures you enjoy along the way.
First time travelling solo can seem like a daunting prospect for many, but we have a solution — cruising! Solo cruisers can easily socialize and become acquainted with fellow guests in a safe, fun, and welcoming atmosphere. We've put together a list of some our favourite premier cruise lines that welcome guests travelling independently.
1. Regent Seven Seas Cruises
Photo by: Regent Seven Seas Cruises
Regent Seven Seas ("RSSC") is known for their high touch luxury service and all inclusive experiences. Choose from one of five gorgeous ships and countless dream destinations around the world. Guests of RSSC have a wealth of unique onboard experiences and land excursions to choose from depending on their interests. For some tranquil alone time, their serene wellness spa is the perfect place to focus on your body and mind. On RSSC solo travellers can enjoy single supplement promotion of 10% above the advertised per person rates on select destinations.
2. Cunard Line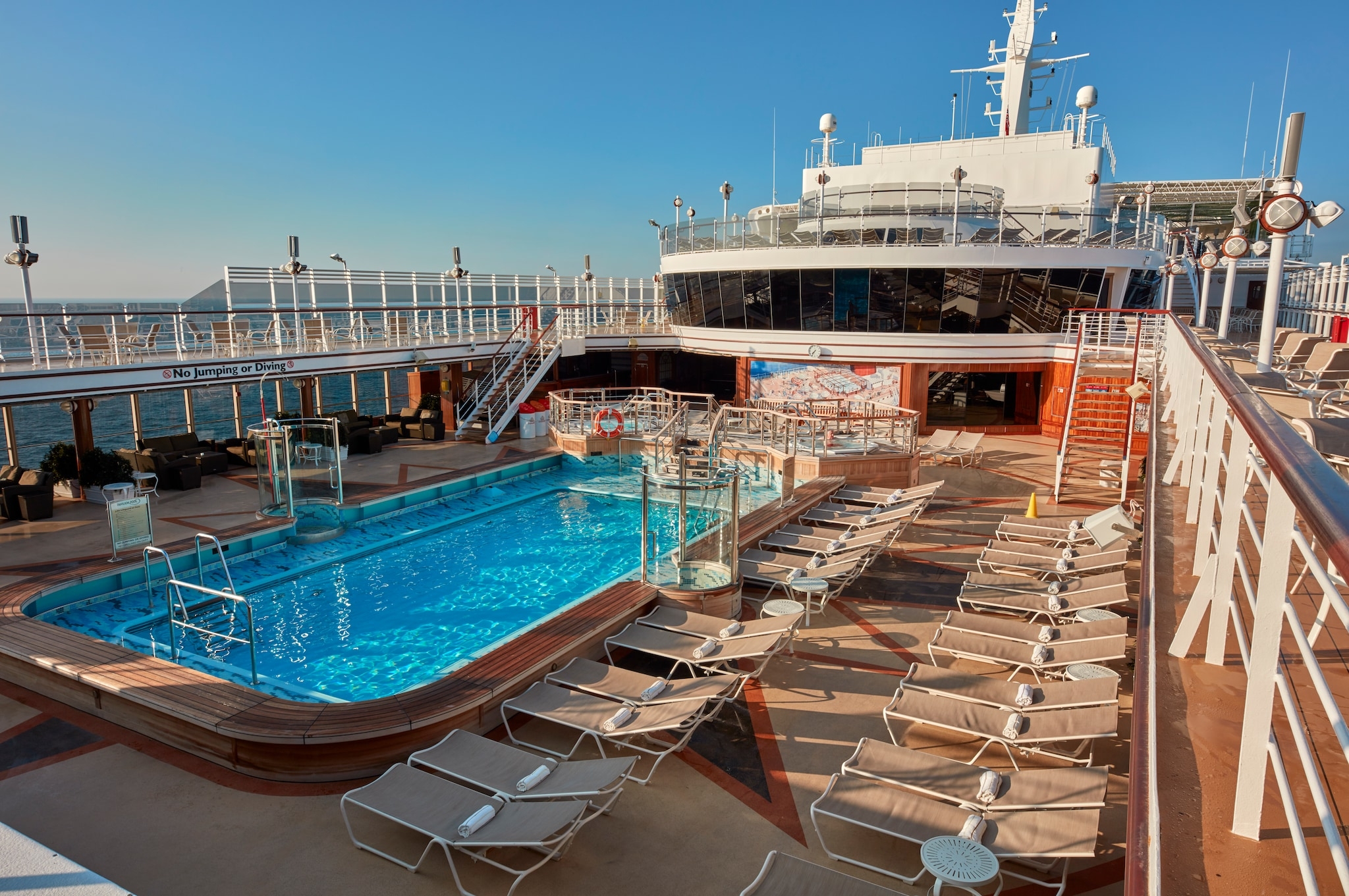 Photo by: Virtuoso

Cunard Line is known for their elevated onboard experience and their abundance of social events and entertaining activities for everyone. Enjoy hosted cocktail and dinner parties, coffee gatherings, dance classes, and deck games all designed specifically to allow solo travellers to mix and mingle. Cunard offers a designated social host on each voyage who ensures that guests feel welcome, are encouraged to socialize, and can join various activities with ease. A great feature of travelling with Cunard is their option for spacious single room cabins. Solo travellers can choose between two cabin options; either the Britannia Single Oceanview or the Britannia Single Inside.
3. Holland America Line
Photo by: Virtuoso

Known for their timeless and elegant ocean travel experiences, one of the most notable solo traveler perks when cruising with Holland America Line is their wide selection of mid-sized ships and single cabin variations. Holland America Line offers an expansive range of single supplement options for solo travellers, including the option to share a stateroom with another solo guest while enjoying the per person occupancy rate. If you're not keen on sharing, solo travellers have the option of booking a double stateroom for as low as 150% of the double occupancy fare.
4. Silversea Cruises
Photo by: Virtuoso

With ships ranging from 51 cabins to 304 cabins, Silversea Cruises offers a more intimate experience for solo travellers. Sailing solo means you don't have to compromise on the destinations you want to explore, the time of year you want to depart, or the onboard activities and opportunities you want to participate in. Every voyage commences with a champagne welcome party for solo travellers to get to know fellow guests travelling alone. This luxury line offers single supplement fares ranging from only 110% up to 125% on select sailings and cabins. You decide how you want to experience your well deserved voyage!
5. Crystal Cruises
Photo by: Virtuoso

Crystal Cruises is one of the most admired luxury cruise lines for their elevated approach to ocean and river travel. In addition to ocean cruising options, Crystal offers river cruises that traverse the many magnificent rivers of Europe. Their wide variety of destinations matches their generous single supplement offerings for solo travellers. Single supplement fares can be as low as 110% of the applicable per person, double occupancy rate on select sailings.
6. Atlas Ocean Voyages
Photo by: Atlas Ocean Voyages
One of the most anticipated expedition cruise lines of 2021 is the new Atlas Ocean Voyages. Atlas is embarking on journeys all over the globe on their new ship, the World Navigator. There are endless possibilities of destinations to discover from exploring the coast of Athens, Egypt, the Mediterranean, the Caribbean and South America. In 2022 the World Navigator will be sailing to the Arctic, Baltic, British Isles, Iceland, Greenland and the Norwegian Fjords. Setting Atlas Ocean Voyages apart from many other lines is that starting in March 2022 they will offer Solo Suites with no single supplement.
Thinking of cruising on your own? Contact your favourite North South Travel advisor for more details and information on your next independent journey on the sea.

By: Olivia Patrick