It's all amazing. All the way from the verdant Cocora Valley to the jagged peaks that loom high above it. All the way from the coast—where thick jungle gives way to white-sand beaches and the stunning blue sea—to Cartagena, the colonial jewel of the Caribbean. Colombia casts a seductive spell. Enjoy it all.
HIGHLIGHTS
Hike in Cocora Valley and through coffee farms to cozy haciendas in Colombia's world-famous coffee-growing region
Discover colorful birds in Tayrona National Park, praised by the New York Times as "one of the most beautiful corners of South America"
Share time with the indigenous Wiwa people along the Santa Marta coast and witness their traditions, undiscovered by most travelers
Experience the romance and intrigue of Cartagena's colonial old town during a guided city walk
COLOMBIA
Start Pereira / End Cartagena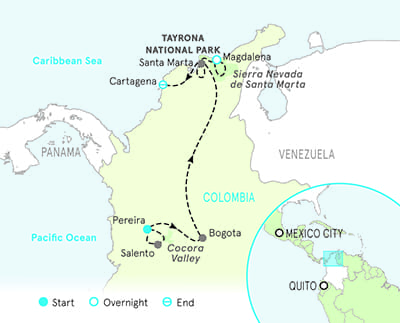 ITINERARY
Days 1-2 Hike amid bamboo and vibrant flowers in the Coffee Triangle, a World Heritage site |Savor lunch at a sustainable coffee farm amid endless rows of coffee plants | Venture into the Cocora Valley, beloved for its biodiversity, including the wax palm, Colombia's national tree | Explore the quaint coffee village of Salento, known for its well-preserved colonial architecture | Spend time strolling palm-lined Plaza Bolívar and browsing artisan shops.
Day 3 Walk to a local farm and learn about the traditional Colombian Paso Fino (Fine Step) horses | Fly to the Caribbean coast, settle into our beachside hotel and bliss out on the pristine beach or relax at the pool.
Days 4-5 Discover Tayrona National Park, one of Colombia's most stunning natural areas, keeping an eye out for wildlife | Tropical forest gives way to a gorgeous white-sand beach and a brilliant turquoise bay | In the Sierra Nevada de Santa Marta, a World Heritage site, follow centuries-old trails to meet with indigenous Wiwa community members.
Days 6-7 Experience the lush landscape from a new angle, embarking on a leisurely tube float on the crystal-clear river | Join a guide to explore Cartagena's colonial walled city and fortress, a World Heritage site, learning about its deep history including how its position as a port town was key in the expansion of the Spanish empire | Take in the postcard-perfect colonial architecture with Andalusian style roots complete with bougainvillea wrapped verandas and restored basilicas.