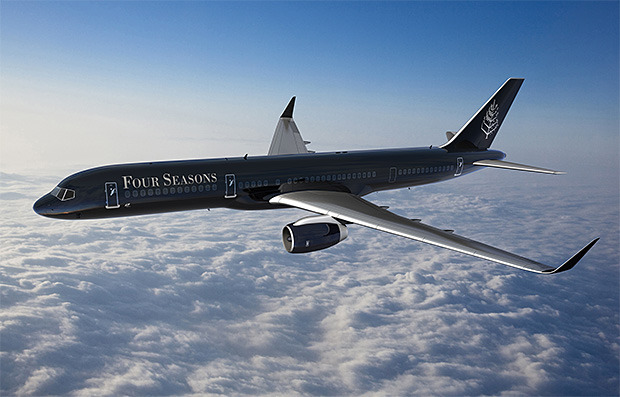 Four Seasons is your ticket to the world's most fascinating destinations. Travel the globe aboard the custom-designed Four Seasons Jet, enjoying personalized itineraries and exceptional service at every point of the journey
EXPLORE THE WORLD
Experience a lifetime's worth of adventure in one spectacular voyage. Our exclusive itineraries travel to amazing places at every corner of the globe—taking you to secluded islands, urban centres alive with culture, and everywhere in between. Climb aboard and see the world in a remarkable new way.
FOUR SEASONS STYLE
Flying aboard the Four Seasons Jet with our on-board service professionals ensures that you travel in total comfort prior to arriving at deluxe Four Seasons accommodations. On the ground, experience the very best that each remarkable destination has to offer with the help of our dedicated travel experts.
** 2016 Itineraries **
Timeless Discoveries: An Around the World Journey

LA | Kona | Bora Bora | Sydney | Bali | Chiang Mai | Taj Mahal & Mumbai | Prague | London
9 celebrated places, 1 remarkable journey
An ever-popular journey, our signature Around the World trip features some of the world's most iconic destinations. From the beaches of Bora Bora to the Taj Mahal, this is a 24-day itinerary that touches down in sophisticated cities and island paradises. See Sydney by seaplane, explore a 14th-century castle in Prague and go on an elephant trek through the jungles of Chiang Mai.
January 26 - February 18, 2016
USD 132,000 per person based on double occupancy
International Intrigue: An Around the World Journey
Seattle | Tokyo | Beijing | The Maldives | Serengeti | Istanbul | St Petersburg | Marrakech | Boston
Explore intriguing cities and exotic settings.
Discover some of the world's most intriguing cities and beautiful landscapes. This itinerary includes some of Four Seasons newest properties. From the thrilling game drives in the Serengeti to the lavish palaces of St. Petersburg to a private dinner on The Great Wall, this Around the World journey is a 24-day experience of legendary places spanning the globe.
April 14 - May 7, 2016
USD 132,000 per person based on double occupancy
Extraordinary Adventures: An Around the World Journey
Austin | Costa Rica | Lana'i | Sydney | Langkawi | Mauritius | Serengeti | Petra or the Dead Sea | Lisbon
Experience adventure Four Seasons style.
This brand new itinerary caters to the adventurous spirit. Enjoy a 25-day journey filled with incredible adventures that deliver one memorable moment after the next. Soar by zip line across the rain forest canopy of Costa Rica, hike Australia's Jenolan Caves, kayak through Malaysian mangroves and experience the "Big Five" on a Serengeti game drive.
September 17 - October 11, 2016
USD 137,000 per person based on double occupancy
Cultural Escape: Europe, Middle East & Africa
London | Petra and the Dead Sea | Dubai | Seychelles | Serengeti | Florence | London
Explore six incredible global highlights.
Immerse yourself in 19 days of distinct cultures as you journey to an incredibly fascinating area of the world. See Dubai from the top of the world's tallest building, marvel at marine life while snorkeling in the Seychelles, and discover the art and architecture of Florence, the cradle of the Renaissance. Travel to the lost city of Petra, imposing in its grandeur, then visit the lowest point on earth and experience the healing properties of the magnificent Dead Sea.
November 4 - November 22, 2016
USD 106,000 per person based on double occupancy
Note: 2016 itineraries may be subject to change.
Toast your travels with Dom Pérignon, the icon of luxury champagne. Dom Pérignon is always vintage only, made only with the very best grapes of the most exceptional years. As the exclusive Champagne provider aboard the Private Jet, passengers will enjoy the latest vintage from one of the world's finest wine makers.
CHART YOUR COURSE
This is your journey—Four Seasons is here to facilitate and personalize the experience to ensure that it lives up to your dreams.
All of ther itineraries include extensive options and activities in every destination, allowing you to customize your experience to match your own unique interests. Choose from a variety of excursions, make private arrangements or simply relax and enjoy the luxurious Four Seasons experience. Ask, and your itinerary will be tailored to your needs. We can help you every step of the way!
AT YOUR SERVICE
Rely on the expertise of the Four Seasons team, whose dedicated service gives you the freedom to savour every moment of this incredible journey.
CONCIERGE ASSISTANCE
The Four Seasons concierge team is committed to ensuring your private jet travel experience is extraordinary and fulfils every expectation. Collaborate with a dedicated Four Seasons Concierge on-board the private jet to receive recommendations and customize your excursions. On the ground, the same world-class, highly personalized service is available around the clock through the hotel concierge teams.
MEMORABLE MEALS
The luxurious private jet experience would not be complete without five-star dining. Using only the freshest ingredients and catering to any personal dietary needs, a dedicated Four Seasons chef travels with you and carefully designs in-flight menus that incorporate culinary influences from around the world. During your stay at each unique Four Seasons destination, the hotel or resort's executive chef continues the epicurean adventure with expertly crafted menus and wine pairings.
EXPERT GUIDES
To ensure that you maximize every moment of your experience, Four Seasons provides access to guest lecturers and on-the-ground experts who will help you explore each new landscape according to your personal travel style. With customizable itineraries, you can choose to shop Beijing's emerging design scene with a fashion insider or explore Lisbon's art galleries alongside a contemporary artist.
Contact one of our Travel Specialists for more information and to book your luxurious trip today!
SOME FAQS ABOUT THE JOURNEYS:
*What kind of jet do we travel on?
Our journeys are on a first-class dedicated, private Boeing 757 customized with only 52 seats, allowing more space to relax and enjoy your flight.
* How is seating arranged on the jet?
Seating is configured in a special 2x2 configuration. If traveling with a partner or as a couple, you will be seated next to each other.
*Who will I be traveling with?
Our adventurous and curious travelers come from across the globe. Our programs appeal to people who are seeking unique travel experiences which will broaden their knowledge of the world and give them lasting and rewarding memories. Please note, all activities and tours are conducted in English.
* Are single travelers welcome on the trip?
Yes, we welcome single travelers and provide equal accommodation for both single travelers and couples. If you would like to request a roommate, we will do our best to assist in matching you with a fellow traveler.
* Are children allowed?
It's important to note that our journeys are designed with adults in mind, including the itineraries, menus and alcohol service. If you would like to travel with children, we recommend that you consider only well-traveled, older (12+) children. Please feel free to discuss specific recommendations with one of our Guest Service Managers.
* What staff accompanies me on the journey?
A Journey Manager, an Assistant Journey Manager, a Four Seasons Concierge and a Four Seasons Chef will be with you throughout your journey. In addition, a full airline crew who serve exclusively private jet travel will ensure a safe and enjoyable trip.
*How do you look after my safety?
Your personal safety is of the utmost importance. Traveling by private jet allows us control over the safety and security issues we would not otherwise have. If it becomes necessary, we can change destinations or routings, even while we are en route. Access to the jet is controlled and every piece of luggage placed onboard is screened and remains under the watchful eye of our staff. Where necessary, we have additional security to accompany us on excursions as an extra precaution.
* What kind of activities can I expect?
We offer a range of planned excursions in each destination so that your experience can be customized to you. From heli-flightseeing over the volcanoes in Kona, to learning how to plant rice in Chiang Mai, there are many opportunities to personalize your trip of a lifetime. Your Four Seasons Global Guest Services Manager is available from the day you book to begin choosing your options.
* What category room will I be staying in?
We book the highest category of non-suite rooms for the group. Suite upgrades will be available upon request on a first-come first-served basis.
* Is food included in the cost of the trip?
Yes, all meals are included in the price of the trip, beginning with the dinner at the start at the trip, through breakfast on the final day of the trip. Many meals are à la carte, but you can expect at least one event meal per destination that involves an exciting cultural event or local entertainment. In-flight menus are developed by your onboard Four Seasons Executive chef using only the freshest ingredients.
* What if I have special dietary restrictions?
Once you book your trip, we will be asking you for information about yourself including any special dietary requirements. Our Executive Chef will oversee all meal preparation for onboard meals and meals served in the hotels. Your dietary requirements will be forwarded to all restaurants where you will dine. Every effort will be taken to meet your special dietary needs.
* What beverages are included?
All beverages, including alcohol, are included while onboard our private jet. While we are on the ground, lunch and dinner will include beer, soft drinks, and selected wine and liquors. Bottled water is available at no extra charge at all times while touring and in our hotels.
* Does the trip include any insurance coverage?
All private jet guests automatically receive emergency medical assistance, including coverage for up to $100,000 in medical evacuation and coverage for up to $50,000 in medical expenses for covered reasons.
* What is not included in the trip cost?
The program does not include: airfare from your home city to the first departure city on the itinerary or from the final destination city on the itinerary to your home city; passport and visa fees; optional accident, baggage and trip cancellation insurance; personal expenses while traveling, such as laundry, taxis, telephone and fax charges; optional additional activities, such as golf fees, spa services, private car and driver; and liquor consumed outside of the private jet and our hosted cocktail receptions.
* How much luggage am I allowed to bring?
You are allowed to bring three suitcases, however, we strongly recommend you try to pack in two.
* Can I bring golf clubs?
Yes, but they will count as one of your suitcases.
* How is the luggage handled on the trip? Do I need to carry my bags?
We have a dedicated luggage handler, who will manage checking your luggage throughout the journey as well as the delivery of your bags to your hotel in each destination.
* What can I bring onboard the aircraft?
For carry-on luggage, we recommend one small bag for items like books, games, iPads, etc. along with other small personal items such as purses and/or camera bags. For your convenience, you can leave personal items on the aircraft that you plan to only use while on the jet. Your bags must fit in the overhead compartment or under the seat in front of you.
* What should I pack?
Clothing varies by destination and activity, so we will provide you with a detailed packing list prior to departure. Laundry services are available at all of our hotels and we recommend you leave extra space in your suitcase for shopping.
Interested in Adventure Travel?