Getting the next place on our trip was a chaotic affair. We took a plane from the airstrip near Mara Bushtops , then a bus, then we had to go through the chaos of border crossing from Kenya into Tanzania, then another bus and another small plane. Eventually we met our guide, Harry Richard of African Horizons, at Manyara airstrip. Harry stayed with us through Tarangire. He was very good, knowledgeable, flexible, good English, and happy to teach my dad and aunt some Swahili.
Before arriving at our next place to stay, Acacia Farm Lodge, we actually first visited a place called Lake Manyara National Park. We drove around the trails for a little while, where we got to see one animal we hadn't seen before: baboons. It feels like every new place we go introduces itself to us with a new animal: after seeing all those animals at Borana, my parents wanted to see warthogs, and those were among the first we saw driving in to Mara Bushtops. Now, before even heading to our lodge we see baboons, which we'd never seen before. The baboons were surprisingly chill, just sitting on the side of the road or wandering about, not concerned with the humans right next to them. We also saw elephants, and a hippopotamus lounging in the water. We were able to get surprisingly close to it, and observe the scars on its back. At the lake itself, we saw massive flocks of birds off in the distance, including flamingoes though those were very far away and hard to see. On the way back, there was an elephant in the middle of the road, which we had to drive close by while it was looking at us menacingly. It was genuinely frightening, but nothing ended up happening and we went on our way the check in at the lodge.
Acacia Farm Lodge is a 30 room "country style" lodge on a 25 acre mixed working farm in Karatu, Tanzania, near Ngorongoro Conservation Area. The rooms are spacious and modern. There is a restaurant, nice pool and small gym. The staff are very friendly and all speak some English. But sometimes the Lodge couldn't respond to requests, like for hot water bottles at night. The food was good, but mostly buffet or family style, and my aunt, who has severe dairy and gluten allergies, had some trouble finding things she could eat compared to previous places. The Lodge grows much of its own vegetables, fruit and coffee.
Karatu is a bustling, colourful, dusty town of the Iraqw people, who seem to be mostly subsistence farmers and traders. About 230,000 live in the area. Karatu reminds my parents of Chicanna, Yucatan, my aunt of Pokhara, Nepal.
The Conservation Area is huge, about 2 million acres. It covers both a chunk of the Ngorongoro Highlands, including Ngorongoro Crater (the world's largest intact volcanic caldera), and the southeast Serengeti plain, including Olduvai Gorge (about which more below). It includes a big range of ecosystems, from scrub forest on the east, to cloud forest around the Crater rim, to dry steppe on the west. The Maasai graze their cattle, goats and donkeys in the Area (but not the Crater).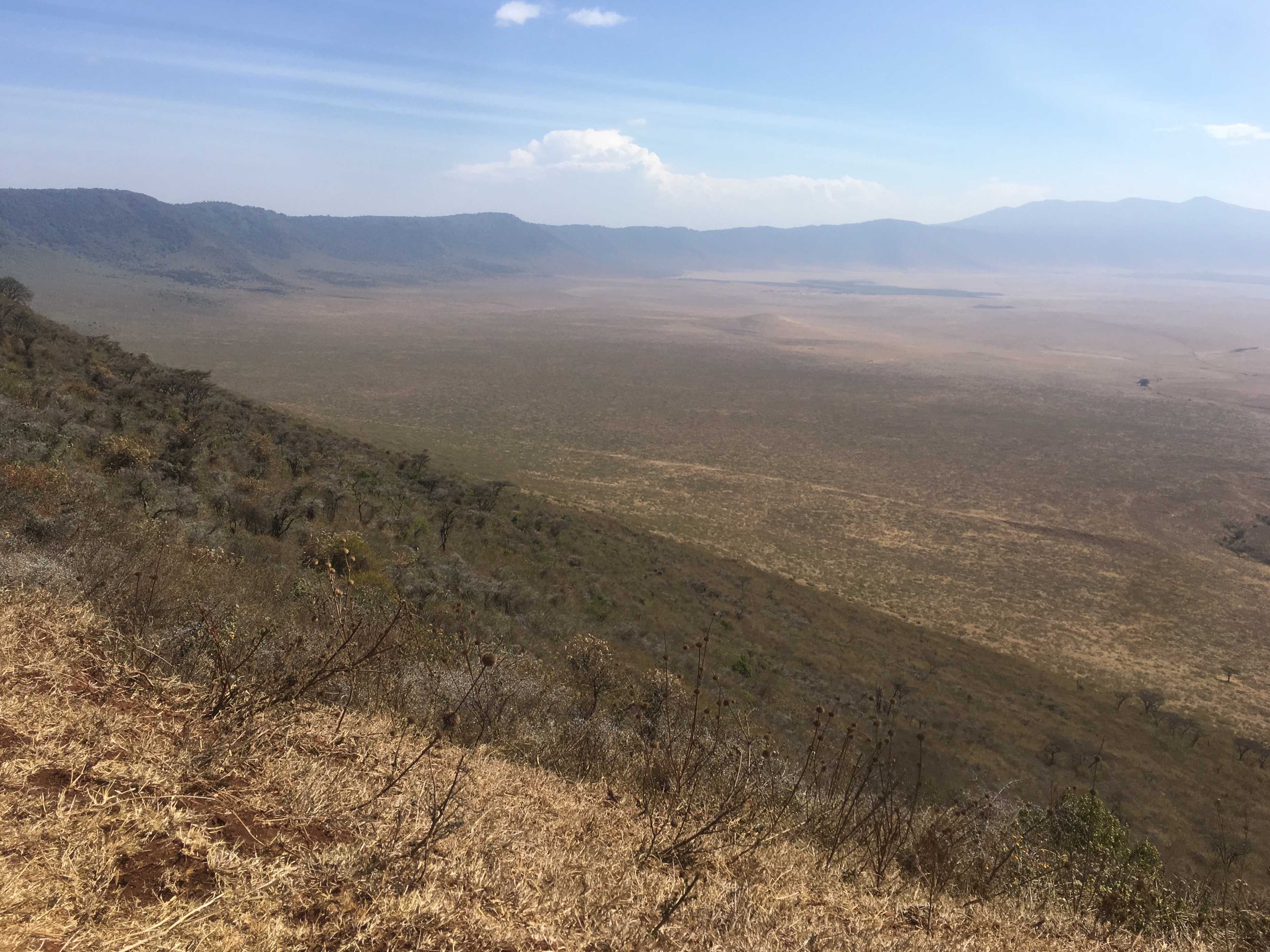 We repeatedly ended up driving up into the mountains along a very bumpy and dusty road. There's a little checkpoint before it with a small museum attached, and there are baboons in the parking lot of that climb over the cars, so you have to close them up. The first time we did this, we then crossed a wide-open plain area to reach Olduvai Gorge, a beautiful area that was home to some important pale-ontological discoveries about the early evolution of the human species. There was a little museum we went to there to learn all about it, which was very interesting.
The next time, we drove down into Ngorongoro Crater itself. This place is huge (64,250 acres), very wide open, and absolutely full of animals. We saw zebras and antelope, we saw warthogs and hyenas taking baths, we saw a group of four male lions that walked right past our truck. That was incredible, they came so close. Perhaps the most memorable find was a huge pool absolutely filled with hippos. We had seen hippos before, but here there were so many in one place that I didn't even notice how many they were because I thought they were rocks, which my parents aren't going to let me forget.
We also went on a hike, which wasn't that interesting but we did get an amazing view of the Crater and some zebras posing majestically at the end.
The next place we'll be staying is Tarangire Treetops, near Tarangire National Park, Tanzania.