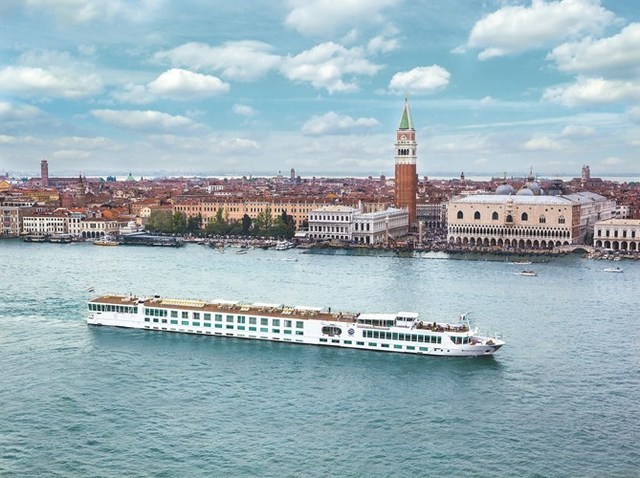 ​More and more guests have found that traveling solo with Uniworld is one of the most enriching and rewarding ways to explore Europe. To celebrate this, they've waived the single supplement* on many of their most popular 2017 itineraries! Book early, while space is still available!!
If you've been pondering options for exploring the world on your own, there's no better choice than a luxurious and all-inclusive Uniworld boutique river cruise.
Their meticulously planned itineraries are ideally suited for solo travellers, with open seating at every meal, small group excursions, and kindred spirits who share your cultural curiosity and passion for fresh destinations. Savvy solo travellers and first-timers alike find the warm and welcoming atmosphere onboard their ships makes for a safe, convenient, and truly rewarding travel experience. Freedom and flexibility are just two of the many advantages of traveling solo, and more and more travellers are opting to come aboard as a party of one. In view of this, they've waived the single supplement fee* on a generous number of itineraries and departures.
Offering one-of-a kind luxurious ships with an average capacity of just 130 guests and the highest staff-to-guest ratio in the river cruise industry. Enjoy award-winning service from the most engaging and experienced English-speaking staff on the rivers. Relax in the most elegantly appointed river-view staterooms and suites afloat—many with French balconies—offering exclusive signature touches such as handcrafted beds from Savoir® of England, an array of pillow options, flat-screen TVs with infotainment centers, and spacious marble bathrooms stocked with robes, slippers, and L'Occitane en Provence bath and body products. Expertly planned shore excursions with personalization options and a host of exclusive experiences designed for Uniworld guests only are also included.
Available 2017 Departures:
NEW FOR 2017: Paris & Impressions of the Seine | Paris to Paris | 10 Days | River Baroness | Departure Dates: 04/06, 04/15, 05/03, 06/17, 07/05, 07/23, 08/10, 08/19, 09/15, 10/12, 10/30, 11/08 | from CAD$3,999
Discover the inspiration for countless works of art. From Paris's historic Montmartre to the vistas of the Alabaster Coast and countless precious gems in between, this wonderfully paced cruise provides the perfect blend of scenic daytime sailing with exhilarating onshore excursions. The intersection of art and nature unfolds as you sail along the serene Seine through the countryside immortalized by so many great artists, exploring the towns and seascapes made famous by the impressionists, including Le Havre, which is often referred to as the birthplace of impressionism.
European Jewels | Budapest to Amsterdam | 15 Days | S.S. River Empress, River Duchess, River Princess & River Queen | Departure Dates: 05/15, 05/29, 07/19; 08/16, 08/30, 09/13, 10/11, 11/01 | from CAD$7,199
Indulge your passion for majestic art, architecture, music and history on an all-encompassing journey through four countries along three great rivers—the Danube, Main and Rhine—and to countless UNESCO World Heritage sites. From exotic Budapest, "Queen of the Danube" to imperial Vienna, "City of Waltzes," to the sky-high spires of Cologne's Gothic cathedral—centuries of intriguing history and culture unfold before your eyes. Tantalize your senses with exclusive wine, apricot brandy and beer tastings, along with the regional culinary delicacies throughout your journey.
Burgundy & Provence | Avignon to Lyon | 8 Days | S.S. Catherine | Departure Dates: 03/26, 04/9, 04/23, 05/28, 06/04, 07/23, 07/30, 08/06, 08/13, 09/10, 10/08, 11/05 | from CAD$3,449
Follow in the footsteps of Van Gogh, Cézanne and Gauguin on this exquisite all-inclusive journey through southern France; the same beautiful countryside and culture that inspired the masters will now inspire you. Cruise the serene Rhône and Saône rivers, enjoying the region's incomparable wine and cuisine and discovering its many treasures—from the medieval wonders of UNESCO-designated Avignon to the lively Les Halles food market in Lyon.
Castles Along The Rhine | Basel to Amsterdam | 8 Days | S.S. Antoinette & River Empress | Departure Dates: 03/15, 03/19, 03/22, 03/26; 05/17, 05/21, 07/02, 07/05, 07/26, 07/30, 04/05, 04/16, 04/19; 06/07, 06/25, 08/06, 08/27, 09/17, 09/27, 10/08, 10/11, 10/29, 11/01, 11/05 | from CAD$2,649
Cruise along the Rhine—Germany on one side, France on the other. Discover Alsace, whose dual French and German heritage has given it fabulous food and a winemaking tradition that goes back to the Romans. Marvel at castles that were once mighty fortresses guarding territory and trade routes, and that now tower above the water as romantic ruins. Visit historic cities, including ancient Cologne and picturesque Strasbourg; stroll through the fairytale towns of Riquewihr, Kaysersberg and Rüdesheim; and taste delightful whites wines in the villages where the grapes are grown. Beethoven and Byron were completely enchanted by the region's romantic splendour — experience it all from the perspective of a luxurious Rhine River cruise and see how much it inspires you!
Portugal, Spain & The Douro River Valley | Lisbon to Porto | 11 Days | Queen Isabel | Departure Dates: 04/06, 07/13, 08/03, 08/10, 10/26; 11/2, 11/09 | from CAD$3,749
A captivating journey that pays tribute to the "Age of Exploration." Experience the "sunny side" of Europe, starting in radiant seaside Lisbon and following the Douro River through Portugal and into Spain. Feel the warm sun on your skin as you cruise past terraced hills, quaint villages and acres of ripe vineyards.Sail from Porto through the breathtaking, UNESCO designated Douro Valley, where vines cling to precipitous hillsides. Visit charming quintas and meet the winemakers who operate them.
Other Cruises with Available Departures: Tulips & Windmills, Holland & Belgium at Tulip Time, Rhine-Main Discovery & Munich (new!), Legendary Rhine & Moselle, Enchanting Danube, Delightful Danube & Prague, Highlights of Eastern Europe, Portraits of Eastern Europe, Bordeaux Vineyards & Chateaux, Paris & Normandy, A Portrait of Majestic France, Grand France, Jewels of Spain, Portugal & the Douro River, Danube Discovery & Prague, Grand European Discovery, Ultimate European Journey, Ultimate France, Imperial Waterways of Russia, Danube Holiday Markets, Rhine Holiday Markets, European Holiday Markets, Classic Christmas Markets, Enchanting Christmas & New Year's Cruise, Parisian Holiday, Grand Christmas & New Year's Cruise
What is Included?
All meals onboard
Welcome & Farewell Gala Dinners
Captains Welcome & Farewell Receptions
Unlimited beverages onboard (Russia excluded)
All transfers
Access to UNESCO World Heritage Sites
A Uniworld Cruise Manager
All gratuities onboard & ashore (Russia excluded)
Onboard local entertainment
Cultural enrichment presentations
Shore excursions with English speaking guides
Internet and Wi-Fi access onboard
Well-equiped fitness centre
In-stateroom infotainment centre
*Waived Single Supplement apply to select 2017 dates and itineraries only. Category upgrade charges apply. Single Supplement Waived offer does not apply to suites. Single Supplement Waived offer is not combinable with other current savings or promotion offers. Single Supplement offer applies to cruise and tour dates. Subject to availability. Capacity controlled. Other restrictions may apply and Uniworld reserves the right to withdraw or change this offer at any time. For complete details, general information, and terms and conditions applicable to all Uniworld trips, please contact us for more information.
This offer is only available while supply lasts so book soon if you picture yourself cruising in luxury in 2017! Call our Cruise Specialists at 604-736-7447 or click on contact us above to find out more!
PLUS receive Virtuoso amenities of $100USD p/p shipboard credit and a fresh fruit plate when you book directly with us!